Hi Guys!! Back with another post!! I decided to write this for all my art-lover friends!! Especially Sid and A . I will be telling some tips and tricks as well as some problems we may face while painting! I hope this post is helpful and can inspire many people!! Let's start!
DON'T KNOW WHAT TO DRAW/PAINT?
This can be the downside of painting, people often lag the inspiration for painting something, WHY? Just because they don't find a perfect picture or reference to paint! This happens to me many times! The best way to avoid this is to search for images on pinterest, instagram, google, facebook etc. There are so many resources so use them!
2. I RAN OUT OF PAPER😭
This might not happen to everyone, but some people like me who always forget where the papers are kept run out of paper whenever they want to paint! Who said it's necessary to paint on papers? You can paint on walls [take your parent's permission first!], cloth, tiles, unwanted shirts or pants and what not!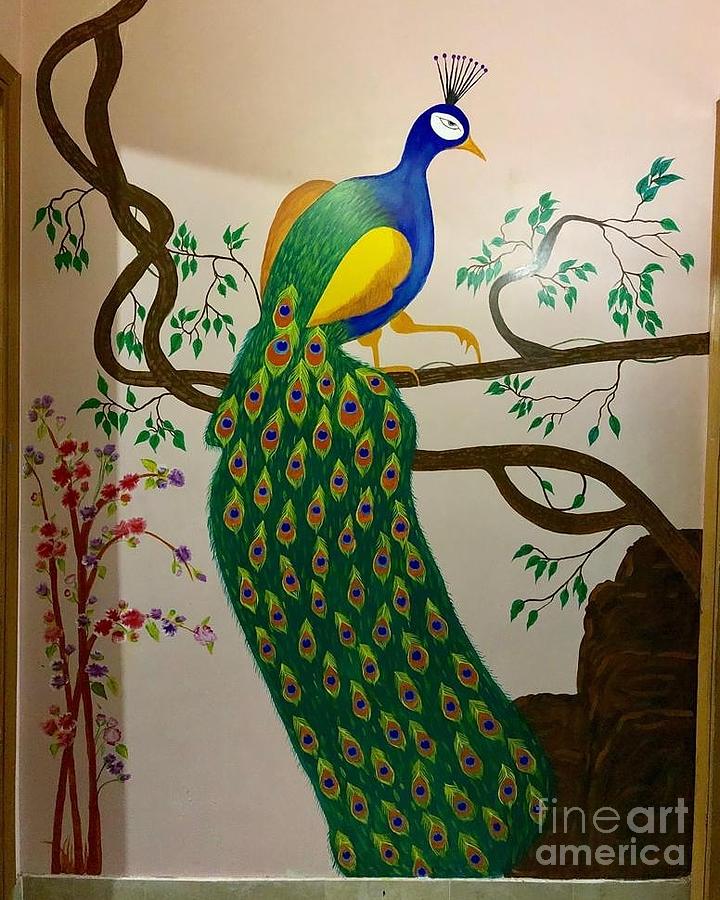 If you are painting on canvas, you can use Gesso for the smoothness.

3. MY COLOURS!
Now that we have decided what to paint and on what to paint, some people may not have the proper colors [weird right?] You can always use natural colors! For eg. For GREEN you could use the CHLOROPHYLL of any plant leaf. For YELLOW you can crush the PETALS OF A MARIGOLD FLOWER, just don't demolish it 😅and for ORANGE you could use TURMERIC, for BROWN, COFFEE would work etc.
4. BRUSHES!
Now that we have our reference image, something to paint on, colors, we haven't talked about the brushes yet! I won't be telling how to practically make brushes, But problems I face with brushes. If you don't have a brush, what I do is I use the thing with which we apply nail-polish as a TEMPORARY brush. If you don't have brushes you could use toothpicks, threads, pallet knife or your fingers to paint!! I would recommend having Round brush – 0, 4, 8, 12 and Flat brush – 2, 6, 12 in your art kit!
PS- Make-up brushes make a great resource if you want to create scumbled backgrounds!
5. PALETTE
Not having a palette is a common thing, but don't let this stand as a barrier! You definitely don't need to have these fancy pallets-
But instead you could use an ice tray! Yess! An ice tray. Firstly, find an ice tray, then cover it with plastic, and you can put colors in each compartment! In the end, the results will be the same no matter you use a professional palette or this ice tray palette !
6. WATER
This is the last thing we need for creating a masterpiece! I prefer using two jars of water, 1 for dirty and 1 for clean. So that you don't need to run around the house to refill the jar, and also because the brush stay nice, clean and hydrated [don't know about hydrated]
AND THAT IS ALL YOU NEED FOR PAINTING!! GRAB YOUR THINGS AND START PAINTING!
YOUR PAINTING IS IN PROCESS. PLEASE DO NOT DISTURB….
YESS WE CREATED THE MASTERPIECE!!
But surprisingly the post isn't over yet!! There are still problems we face after painting
7. PALETTE AFTER PAINTING
I face this a LOOT of times! My palette just looks as if the colors were dancing here and there! And to add to this, I forget washing my palette ! To avoid this, I sometimes use a plastic sheet and cover it over my palette , so that when I'm done painting, I remove the cover! But I like not to cover it with plastic, but keep the pallet as it is, and not clean it with full concentration, because the dirty palette is the sign of your successful painting!
8.BRUSHES AFTER PAINTING
After painting DO NOT LEAVE YOUR BRUSHES IN THE WATER! This causes them to loosen their bristles and change their shape, if so happens, you can always tighten the top of the ferrule with pliers. Though this isn't the permanent option. REMEMEBER! Do not apply too much pressure while tightening round brushes or they may loose their shape!
If you forget to wash your brushes, and the paint isn't leaving the bristles, leave them in water for about 1 day or so, and then start removing the paint. Water helps the paint molecules to loosen up and then it is free to be removed!
If your brush looses it's shape, apply soap on the bristles and leave them untouched overnight. Then clean them with water and enjoy painting!!
You can always apply Varnish on canvases to give the paintings a finished and glossy look!
If you want to store the paintings, cover them with wax paper, parchment or bags, to avoid dust sitting on them!
Pheeeeeew, long post!
I took a lot of efforts for this post, so pls like and subscribe!
HAPPY ACCIDENTS!